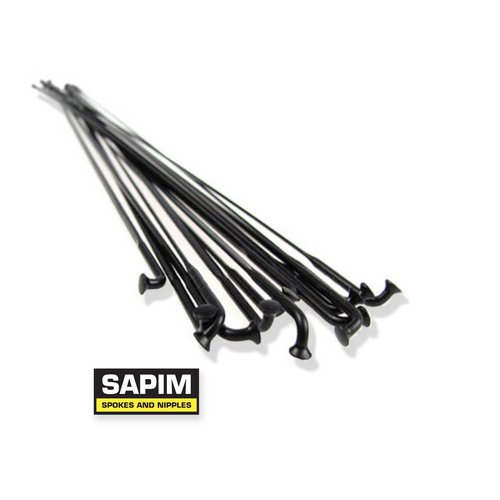 Sapim Spokes
Head with bending
Our standard spokes have a bending length of 2,8 mm. This is optimal for at least 90% of the hubs in the market.
But sometimes the standard bendings
are wrong. Steel hubs need shorter bend. You can adjust this with our spoke washer (see page 34 for more details).
Material
Sapim uses only high grade stainless steel specially drawn to our own specification of material and tensile strength. The long term experience and many trials insure that Sapim spokes last long.
Precise definition and small tolerances are constant point of attention in the production process. This guarantees the highest quality for millions of spokes Sapim produces every year.
Thread
Spoke thread is rolled and not cut. Rolling the thread improve the strength. The name of the thread on a standard 2mm spoke is called FG 2,3 mm.
Options
The world of wheel building and the demand of the market can make spoke different to the standard. For some we have to add anti rotation parts, hammer head, torsion control squares (picture), colors (picture) or different bending length to the spokes (picture). Also a lot more
different spoke models are available only for manufacturers. Our variety insures that you can build up wheels with nearly all available rims and hubs and can repair all standard wheels. For repairs of special branded wheels you should contact your local distributor.
Surface treatment
Black oxidation is a chemical process that transfers the first few micron of the stainless steel surface into a black layer. This method has the advantage of being done in a bulk process, which has a positive effect on the price and capacity (availability and delivery time). This process is performed by high quality minded companies specially selected by Sapim to achieve the highest quality possible.
Read more